Triumph, BMW, Ducati: all three have beaten the bike sales collapse by renewing models even when they were in front. So it is with the best-in-class Street Triple for 2013... but tinkering can be dangerous too.
The bike gained new headlights last year that have bothered some fans a lot considering it was a relatively minor change, but it's the bike's streetfighter style which has appealed as much as its performance and feel, and old circular lights seemed to fit that better. Then again, if a streetfighter is a sports bike with the bodywork removed (accidentally or on purpose), with most modern supersports having some kind of diamond shape to their lights, the pentagonal pair on the Street surely fit the genre better anyway?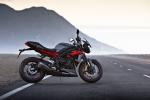 No such tinkering this year, the lights are one of the few things that haven't changed. The focus has been on centralising the bike's mass, which despite the decent handling and agility would have been better for losing the high-up, rear-biased mass of the twin underseat silencers. So in line with current thinking, these have been moved to beneath the engine, lowering the mass and just as important, moving it to the centre of the bike. This reduces the inertial moment so the bike turns more easily says the theory, a well known and easily demonstrated one.
With less weight to carry out back the rear subframe has been changed too, for a lighter cast aluminium item which also looks better than the previous steel version. Highlighting it in red as on the R version of the Street Triple helps too. The new rear wheel is also lighter, and with the revised back brake (new single piston Brembo and disc) has taken another 0.7kg (1.5lb) away compared with last year's equivalent. In total, the new bike is 6kg (13.2lb) better off, on its own a good thing, but with so much coming off the rear end it means the weight distribution has changed from 49 per cent at the front to 52 per cent. There's a 7 per cent reduction in unsprung mass at the rear too.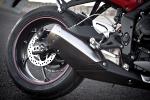 Most of the weight reduction has come from the new exhaust though, which is 3.6kg (7.9lb) lighter, and thanks to this moving the mass forward so much, Triumph has been able to sharpen the steering geometry without sacrificing stability at speed, encouraged by a small increase in the trail. The R's geometry is steeper than the stock model's only because its rear end is set 20mm (0.79in) higher, but it now has a rake angle of 23.4 ° (was 23.9 °) and a trail of 95mm (3.74in) (was 92.4mm (3.64in)).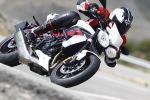 The frame itself is new, although some of the sections are carried over side as the side spars, but it's constructed of eight instead of 11 parts, which as the stiffness is little affected is mostly of benefit to Triumph as it's cheaper to make. It does have an adjustable swingarm pivot position though, as well as the geometry changes, set lower in the R than the standard Street Triple, and there's an additional three degrees of steering lock, up to 31 degrees in each direction.
No claims for additional stiffness in the swingarm either, but this is also new, with an arch on the right to clear the exhaust and a further 0.6kg (1.3lb) weight saving. Inevitably this has led to suspension changes, which has meant only different settings in the forks but also a softer rear spring at the back, not to give the bike a gentler ride but simply because with less weight over the rear and reduced unsprung mass, the firmer spring would have become too harsh.
The fuel tank and bodywork are all new, featuring an array of downward-sloping, slender visual masses which lend the bike a lean and purposeful look, and disguising to some extent just how much more forward-biased it has become with the loss of that previous chunky exhaust and tail unit. The R's unique styling features include the red subframe, red radiator side panels, wheel pinstripes and rear hugger.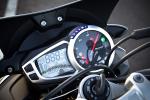 The detailing has been improved a lot, with a dedicated D-lock space beneath the seat, coded-key immobiliser and fuel gauge added, while the number plate/indicator hanger can be removed quickly and easily for track day use. The dash is comprehensive with two trip computers each featuring additional information such as fuel economy and range, gear indicator, lap timer and programmable gear shift lights. There's an ABS control where that's fitted and tyre pressure reading, also an option.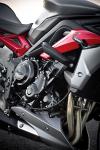 The engine is unchanged internally but drives through a taller first gear and is fed by new throttle bodies with a re-calibrated EFI. The most surprising change is nothing more than a re-shaped butterfly-opening pulley which causes the throttle to open more progressively when the twistgrip is turned. On the previous bike, to keep the engine response smooth the ignition timing was retarded as the throttle was opened, and with the new arrangement it doesn't need to be, which has had a major effect on fuel consumption.
Even Triumph was surprised at the difference: in standardised urban riding it's improved from 39.9mpg (14.1l/km, 7.08l/100km, 33.2mpg US) to 51.7mpg (18.3l/km, 5.46l/100km, 43.0mpg US), a massive gain of almost 30 per cent. There's a difference at low steady speeds too, due to the other changes, with economy up 12 per cent at a constant 56mph (90kph) to 68.8mpg (24.4l/km, 4.1l/100km, 57.3mpg US). Used harder out of town, as the Street Triple often will be, and the economy difference will be much less, but it's nice to know...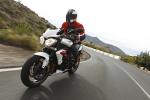 The bike I rode is the Street Triple R (in fact several examples with various accessories), which aside from the cosmetic and geometry differences mentioned above is distinguished by fully adjustable KYB forks, a shock adjustable for preload and rebound damping and quickshift gearchanging as standard (an option on the stock model). And for all the changes, the first thing to hit you is how good it sounds. The new frame routes the intake air from the front of the bike right through the headstock, which is like having a fat soundbox right in front of you. With a group of riders passing through a long tunnel at least half were changing gear, slowing then opening the throttle just to hear the fabulous snarling the bike makes, and it's constantly goading you into accelerating, braking, gassing it then slowing again. Whatever that throttle body change had done for the fuel economy, the soundtrack's undone all the good work...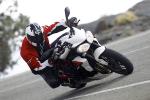 The next clear change is in the ride quality, especially at the rear end. The initial impression is that the bike is softer, as the slight harshness and occasional kick the old one could make on poorer surfaces has gone, replaced by a smooth compliance which no doubt aids stability too. But start to throw the bike around, as the writhing Andalusian roads of the press launch demanded, and the back feels as solid and unflustered as before. The direction changing meanwhile is noticeably faster, especially when you're really trying and pulling hard on the bars to flip the bike side to side. Once down in a corner the steering is beautifully neutral too, holding the line you've pointed it down just so while the Pirelli Diablo Rosso rubber grips tenaciously.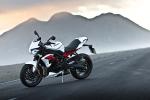 The Street Triple R feels wieldy and compact, even more so than before, and in addition to its improved agility it inspires more confidence too, thanks to an amazingly secure and tactile feel from the front end. The riding position is little changed that I could tell but it works just fine in concert with the eager chassis, allowing you to drop down and forward when really going for it or to sit up and relax in gentler riding. All of the bikes on the test were fitted with the optional flyscreen, which no doubt helps sustain higher speeds over a distance, but you'll still find more than 90mph (145kph) tiring for more than a brief excursion.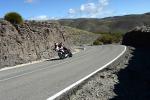 The engine is just as seductive as before, no surprise as it's basically unchanged, so you get a punchy, willing power unit with its enhanced intake snarl that's perfect for driving hard out of corners. It doesn't kick at the top of the rev range like a four but it's still quick and more than compensates with its low and mid range thrust - the 105bhp (106PS, 78kW) at high revs is hardly feeble. The torque curve is remarkably flat, staying above 43lb.ft (5.9kgm, 58Nm) from 3,000rpm up to 12,500rpm, while climbing only gently to the 50lb.ft (6.9kgm, 68Nm) peak at 9,750rpm. Which means the bike goes when you open the throttle pretty much regardless of what the rev counter is saying.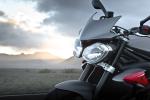 That taller first gear is good and bad. It tames the sharpness of the bike around town and it didn't help at the high altitudes we were riding in Spain either, where the power had fallen by at least 15 per cent by the time we were at 2000m. This makes it more effort to pull wheelies too - you can hit 75mph (120kph) in first before the rev limiter cuts in, which seems very high on a middleweight. On the other hand, the bike is easier to handle and less sensitive to the throttle at low speeds, such as around hairpin bends, and it's smoother in urban riding too.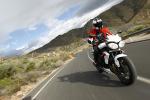 Changing into the other ratios is a real pleasure with the revised quickshift (standard on the R and an option on the stock version). The software has been revised to reintroduce the ignition sparks progressively, rather than the instant the change has been made, and the result is seamless but also very smooth upchanges. The fractions of seconds saved make no difference in road riding, but the sound and sheer fun of doing it are worth a lot.
You can talk about the engine, the transmission, the chassis, but what impresses most with the Street Triple R is the whole package and how it all works together. The bike is alive, sharp, characterful and very simply a huge amount of fun, more so than anything else in its class. It looks great, especially the higher spec R but the stock version is a handsome machine too (and I like the pentagonal lights...), and it's also versatile within the generic limitations of any naked bike.
Triumph might have changed most things about the Street Triple, but what's no different is, it's the best in the class.
Specifications
Model tested: Triumph Street Triple R
UK price: £7,699 (ABS: £8,049) (Street Triple: £6,999 (ABS £7,349))
Available: December 2012 (ABS models, Jnuary 2013)
Engine: three cylinder, liquid cooled, dohc 12v, 675cc
Power: 105bhp (106PS, 78kW) @ 11,850rpm
Torque: 50lb.ft (6.9kgm, 68Nm) @ 9,750rpm
Economy: 48mpg (17km/l, 5.9l/100km, 40mpg US) (on test)
Tank/Range: 3.8 gallon (17.4 litres, 4.6 gallons US) / 180 miles (290km)
Transmission: Six gears, wet multi-plate clutch, chain final drive
Frame: aluminium twin spar
Seat height: 32.3in (820mm) (Street Triple: 31.5in (800mm))
Wheelbase: 55.5in (1410mm)
Rake/trail: 23.4 ° / 3.7in (95mm) (Street Triple: 24.1 ° / 3.9in (99.6mm))
Weight: 404lb (183kg) wet, full tank
Recent comments
In HONDA NC700X, kharli wrote:

In Norton 961 SF engine failure, Cornerman wrote:

In Norton 961 SF engine failure, Navy Boy wrote:

In Norton 961 SF engine failure, antonio99 wrote:

In Norton 961 SF engine failure, Cornerman wrote:

In Fuelling about with maps, Navy Boy wrote:

In Captain Scarlet's next bike, shuggiemac wrote:

In Captain Scarlet's next bike, Captain Scarlet wrote:

In Norton 961 SF engine failure, Captain Scarlet wrote:

In Norton 961 SF engine failure, Cornerman wrote:

In Norton 961 SF engine failure, Navy Boy wrote:

In Norton 961 SF engine failure, Cornerman wrote:

In Norton 961 SF engine failure, Navy Boy wrote:

In Which one would you recommend?, shuggiemac wrote:

In Norton 961 SF engine failure, shuggiemac wrote:

In HONDA NC700X, kharli wrote:

In HONDA NC700X, kharli wrote:

In Captain Scarlet's next bike, shuggiemac wrote:

In Captain Scarlet's next bike, pittsy wrote:

In Captain Scarlet's next bike, Captain Scarlet wrote:
Donate to the Kevin Ash Fund
Kevin's funeral was held on Thursday 28th February and was well attended by family, friends and colleagues.
The Telegraph has very kindly established The Telegraph Kevin Ash Fund to assist with the education of Kevin's three daughters.
The Telegraph can only accept cheques and Postal Orders in Sterling. If you'd like to make a donation but you can't send a cheque or Postal Order then you might consider using PayPal, which will accept other methods of payment. A small percentage (about 3.4%) will be retained by PayPal for the service.
Kevin's family have been touched by the generosity and messages of support from people using the website and would like to express their gratitude to those who have contributed in any way.
The donations keep coming in, thank you so much, and the family especially like it when you leave a message.
NEWS...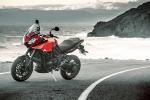 * TRIUMPH TIGER SPORT
The Tiger gets a single-sided swingarm and another 10bhp!...(more)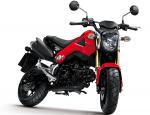 * HONDA MSX125
Honda announces a spiritual successor to the iconic Monkey Bike!...(more)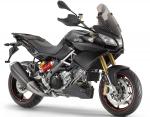 * APRILIA CAPONORD
At last Aprilia goes for the GS too......(more)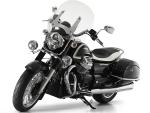 * GUZZI CALIFORNIA 1400
Italy's biggest ever V-twin for the all-new Guzzi...(more)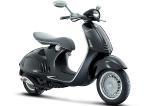 * VESPA 946 FIRST PIC
Sleek new Vespa 125 based on last year's concept bike...(more)